You're viewing degree information for Australian students
You're an Australian student if you are any of the following:
Australian or New Zealand citizen
Australian Permanent Resident (including Permanent Humanitarian Visa holders)
Please remember your residency (the country you are currently in) has no impact on whether you are an Australian or International student.
100% Online
Bachelor of Information Technology
Degree Level Undergraduate
Year 2022
Start Date
January, April, June, September
Duration
3 year(s) full-time
Time Commitment
10 - 15 hours per week per course
Study as
Full-time or part-time
Entry requirements

Admission criteria

The admission criteria have been grouped to assist you to easily find the information most relevant to your circumstances. However, you may fit into more than one and the university will consider applicants against each of the relevant criteria.

Certain conditions apply. For more information refer to Appendix 4 of the University's Selection and Entry policy.

The admission criteria have been grouped to assist you to easily find the information most relevant to your circumstances. However, you may fit into more than one and the university will consider applicants against each
of the relevant criteria.

Certain conditions apply. For more information refer to Appendix 4 of the University's Selection and Entry policy.
Applicants are required to meet one of the following criteria with a competitive result:

Higher education study

Successfully completed equivalent to a minimum of half a year of full-time study over a higher education
program at a recognised higher education provider

OR

Vocational Education and Training (VET)

Complete an award from a registered training organisation at Certificate IV or above

OR

Work and life experience (for domestic students only)

Passed a UniSA Online literacy and numeracy test and have relevant work experience, or
Completed a UniSA Foundations Studies program or equivalent, or
Qualify for Special Entry

OR

Recent secondary education

Completed a secondary education qualification equivalent to SACE, such as an interstate year 12 or
international qualification

Essential requirements for admission

Prerequisites

None

Assumed Knowledge

None

View full entry requirements

Hide full entry requirements
Gain the skills to design, implement and test small and large software systems.
Learn fundamental programming constructs that can be applied to programming languages, such as Python.
Learn how information systems and business intelligence can enhance business operations and drive decision making.
Evaluate the impact of contemporary cybersecurity threats within an organisational context.
Discover common Agile principles and methodologies including the Scrum process.
Enhance your problem-solving skills and tackle challenges from a range of perspectives using design thinking principles.
Study with a university ranked in the Top 10 in Australia for Computer Science (2020 THE Subject Rankings).
Snapshot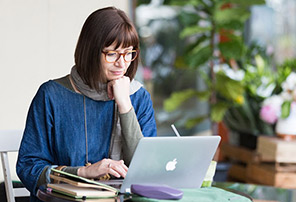 Study On Demand – a 100% online IT degree designed specifically for online learning. Take full control over your study – access support seven days a week, plan your study to fit around your life, view learning resources 24/7, and log into the interactive online environment anywhere, any time and on any device.
Technology is reshaping the workforce, redefining jobs, and creating new roles never seen before. Your IT degree provides you with a broad skillset to help you build a rewarding career in this fast-moving and dynamic sector.
Study a range of IT courses that will give you a solid foundation in networking, database development, programming fundamentals, and systems analysis and design. Gain the skills to design, implement and test small and large software systems. Learn to configure and administer complex computer and database systems. Examine how organisations design, manage and use information systems and technology as an important corporate resource.
As an IT graduate, you'll leave with the skills to design and deliver effective solutions to solve organisational problems. You can also broaden your job opportunities by selecting one minor from a different discipline, such as business, data analytics, digital design, or management.
What you'll learn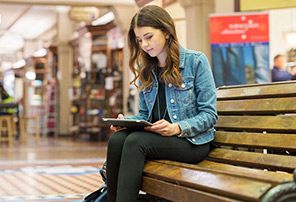 In a world dominated by computers and software, being able to read and write code is a relevant and important skill. Your UniSA Online courses cover fundamental programming constructs that you can apply to a host of programming languages, such as Python.
Systems analysis and design play an integral role in the development of information systems and are critical to helping organisations solve business problems. In system analysis, you'll explore several information gathering techniques to identify functional and non-functional requirements from various stakeholders. As you move through your courses, you'll learn to create a visual representation of all the requirements to communicate with team members, users, and designers. Become well-versed in Unified Modelling Language (UML), the standard graphical modelling terminology used for information systems, and explore methodology, models, tools, and techniques commonly used in systems development.
Organisations recruit professionals who can conceptualise and employ innovative approaches to tackle highly complex problems. Learn how to solve problems using the five-stage Design Thinking model proposed by Stanford University's Hasso-Plattner Institute of Design (d.school). The concept of design thinking has made an impact on how organisations operate and how they plan for the future. From small-to-medium businesses to large corporations, organisations across a diverse set of industries like banking, retail, telecommunications and even film and production, are increasingly embedding the design thinking methodology into the workplace itself. Your UniSA Online IT courses will give you the skills to contribute on a much more strategic level within your organisation.
Agile development is the leading trend in system development. Throughout your studies, you'll explore a range of techniques and methods, such as the Scrum methodology, that allows project teams to respond rapidly to changing requirements. You'll cover data-driven web technologies and will learn to construct dynamic websites that utilise queries to retrieve data from databases. One of your courses will also examine a range of contemporary cybersecurity threats from a technical perspective.
All UniSA Online degrees take a practical, hands-on approach to learning. Your courses have been structured in a way that allows you to learn theoretical components before putting what you've learned into practice in a simulated workplace environment. As part of your major project, you'll develop an app that helps consumers achieve their goals – whether that be through developing solutions for real-time in-store pricing or mobile-centric biometric authentication. In your final year, you'll work in groups with industry partners to solve real-world IT problems hosted by a range of companies across a variety of sectors. You'll interact with their employees and will produce deliverables to a professional standard, which you can add to your resume.
Studying 100% online means you can engage with course materials at your own pace, whenever it suits you – there is no need to be online at a particular time. It's flexible around your life so you can control your study schedule week by week. As a general rule, we recommend 10 to 15 hours of study a week for each course.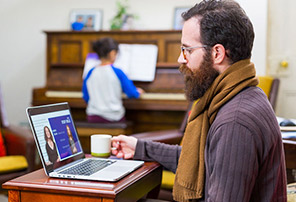 All assessments, including exams (if required) are 100% online, meaning you'll never need to travel to submit an assignment or find an exam venue.
Some of your assessments may include:
an industry-relevant project
an online presentation
essays and reports
Please note, courses may not be displayed in order of study.
Rules

Go here to the see the complete UniSA Online electives list.

1. Assessment requirements for this degree include at least one online exam. The online exam software has system compatibility requirements, specifically that tablets, hybrid devices and mobile devices are not supported. Please refer to the online exam requirements prior to conducting your exam to ensure your computer and software is compatible to undertake the exam.

Notes

1. The electives can be taken as a minor in either Business, Data Analytics, Digital Design, or Management. Speak to the Student Advisor regarding the selection and sequencing of courses to create your chosen minor. Elective 3 or 4 must start with a 3XXX code.

2. This course is recommended for students who are new to university studies or require development in academic and research skills.
Study Information Technology on Demand
Dr Grant Wigley, Program Director: UniSA STEM gives an insight into what the Information Technology degree is about, and how the degree has been designed to suit busy adults on the go.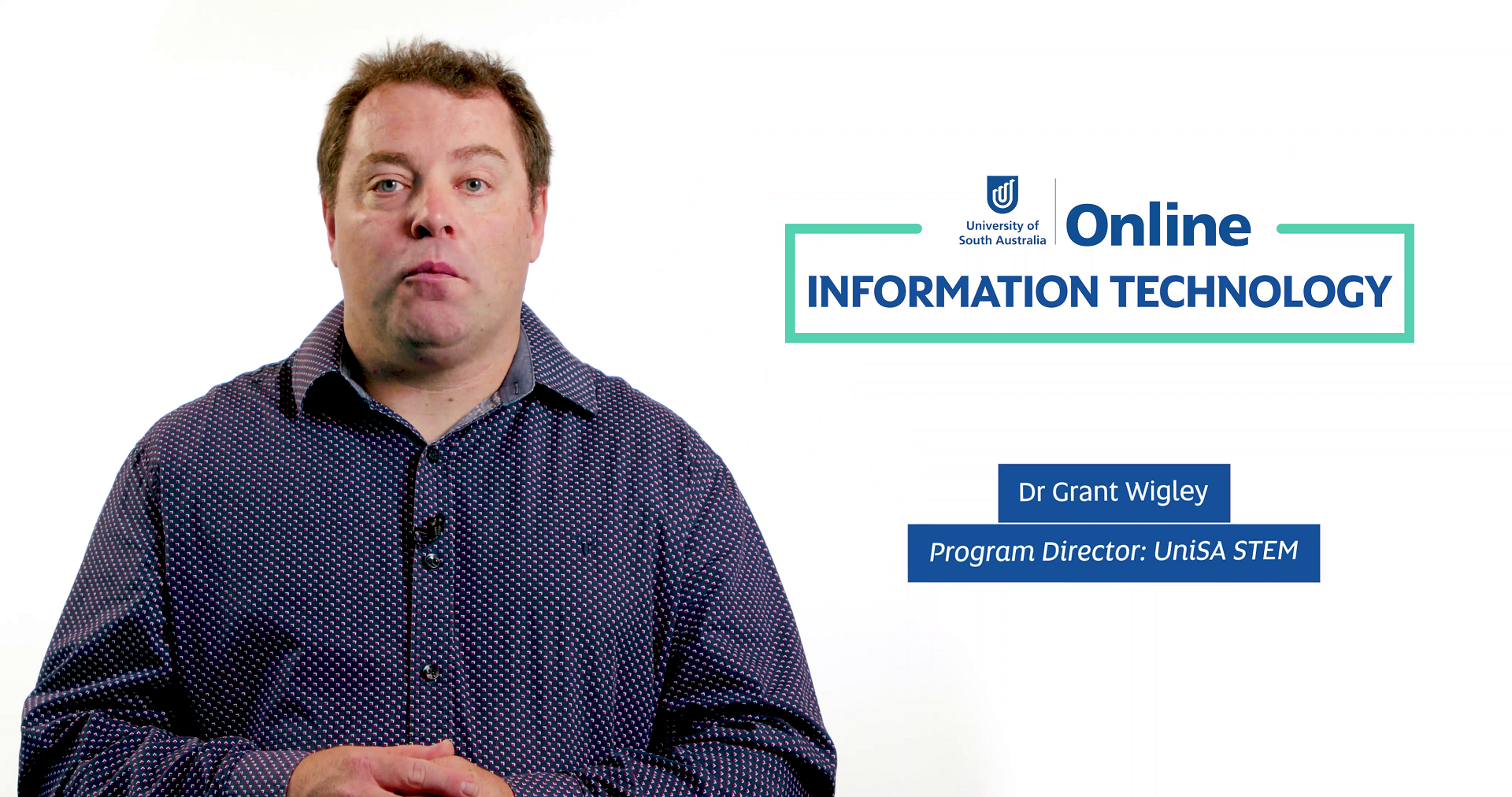 Why Bachelor of Information Technology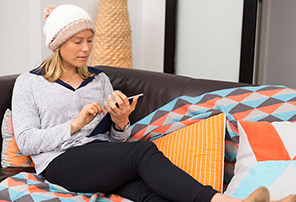 Study at a university that delivers cutting-edge, world-class research in Information Technology1 and Computing and Information Systems2.
UniSA is home to world-leading research centres including the Future Industries Institute, Innovation and Collaboration Centre and Australian Research Centre for Interactive and Virtual Environments. Our researchers deliver technical expertise and advice to industry, government, and community groups to deliver innovative and sustainable solutions that respond to the world's challenges.
Your UniSA Online IT degree integrates research discoveries into your course curriculum. You'll also learn using the latest technology and software allowing you to hit the ground running when you graduate.
With trends and technology constantly changing, organisations need professionals who can apply, configure, and manage IT technologies to solve business problems. This qualification has been designed to ensure you're learning the latest advancements in the field so that you graduate with a skillset employers expect from IT professionals.
1Results in Information and Computing Sciences -2018 Excellence in Research for Australia (ERA)
2Results in Distributed Computing and Information Systems -2018 Excellence in Research for Australia (ERA)
Your career
The digital challenges faced during COVID-19 have, in many cases, accelerated the shift to online, and highlighted the importance, more than ever, of investing in IT and digital infrastructure to remain competitive. This has resulted in an increased demand for people with IT skills. In fact, by 2027, the number of technology workers in Australia is forecasted to reach one million*, and this growth is showing no signs of slowing.
Every organisation today needs a team of IT and computer experts to keep its systems running. You can find work in almost every industry including financial services, entertainment, government, hospitality, healthcare, agriculture, manufacturing, and retail. This is a broad and generalist IT degree allowing you to take your career in several different directions.
*Australia's Digital Pulse Report 2020.
A UniSA Online IT degree can help you pursue the following careers:
Software developer:
Design, develop, test and deploy features or entire applications; participate in the entire software development lifecycle including requirements analysis, design, development, quality assurance and deployment; maintain and update existing websites, servers and systems; develop systems and tools that support and integrate various business systems, flows and data output; interact with clients to clarify business requirements for new and existing projects; design the relationships and objects for a full desktop or web-based application; develop relationships with key stakeholders at all business levels.

Cybersecurity analyst:
Record and resolve cybersecurity problems to support the organisation's cybersecurity posture; provide timely and effective support for all cybersecurity incidents and events; track assets for security-related software, hardware and certificates; demonstrate expert knowledge in undertaking ICT security compliance and cybersecurity risk assessments and produce security documentation for both current-state and target-state; deliver information security solutions that meet business requirements and compliance obligations; review regular intelligence briefs to understand any changes to the threat landscape; identify deficiencies in monitoring systems and recommend improvements.

Full-stack developer:
Work cross-functionally between both the front end and back end; be responsible for the entire flow of the user experience, from its load time and layout to its interactivity and structural underpinnings; demonstrate knowledge in every level of how the web works; set up and configure Linux servers, write server-side APIs, dive into client-side JavaScript powering an application, and turn a 'design eye' to the CSS.

IT consultant:
Plan, design and install information technology systems for clients; work with industrial and commercial clients on their business and IT problems; consult staff from different parts of a client's organisation; determine information system requirements and define project objectives; make recommendations on appropriate hardware, software and systems; design, install and trial new systems and software and fix any issues that arise.

Systems analyst:
Analyse how well software, hardware and the wider IT system fit organisational needs; engage with business stakeholders to develop data requirements; undertake complex analysis of source system databases and data stored in AWS and other cloud computing services; design and develop data views to support report development; facilitate testing for new ingestion pathways or enhancements to existing pipelines; determine the solution for tools, data storage and data integration to support interactive reports and analysts; work in an agile delivery team.

Computer programmer:
Write and test code for new mobile applications or computer programs; create and install updates for existing software programs to improve the user experience; identify and correct coding errors; rewrite code in different languages so that programs and applications are compatible with different operating systems; demonstrate experience with Java, C#, SQL server database, C++, HTML and CSS; possess advanced knowledge of Windows operation systems and Microsoft software.

User interface developer:
Use programming code such as JavaScript, CSS and HTML to create interactive programs that enhance a customer's experience on a business's website or platform; develop features to enhance the user experience; optimise web pages for maximum speed and scalability; collaborate with back-end web developers and programmers to improve usability.

Network analyst:
Investigate, diagnose and resolve network problems including firewalls and security devices; develop network architectures that support IT needs; test network performance and provide statistics and reports; develop strategies to maintain network infrastructure; develop and maintain procedures and documentation for network support; administer the operation and control of all ICT systems and services; investigate causes of incidents, requires and problems; manage and maintain the service compliance of all ICT and service assets in line with organisational and regulatory requirements.
Your study experience and support
Study On Demand
Our online career-focused degrees give you full control and ultimate flexibility over your study. It's Study On Demand, on your schedule, on your terms.
Study 100% online - no need to come onto campus
Choose from four start dates in January, April, June and September
Learn in 10-week blocks
Get support seven days a week - including on weeknights
Access learning resources 24/7
View course content before your term starts
Work while you study
Plan your study schedule ahead of time
Fast-track your studies and receive credit for past study and/or work experience.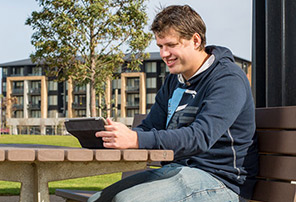 Our graduates get jobs
UniSA is ranked in the top five in Australia for graduate employability1 Join a university known for its employment outcomes. Your UniSA Online degree is more than just a piece of paper – it will prepare you to start your career or take it to the next level1.
Specifically designed for online learning
Our team of academic and online experts have created interactive and media-rich course material using innovative digital technology and state-of-the-art teaching and learning resources. Every degree has been specifically designed for online learning to ensure you graduate with the skills and knowledge for your future career.
Backed by industry
Every UniSA Online degree is overseen by an experienced industry advisory board. We've also consulted with industry experts with a wealth of experience to design course content that reflects the most cutting-edge developments in your field. Our industry connections will enrich your online study experience - you'll be presented with industry problems that real organisations face. You'll also gain the skills and knowledge that industry are telling us they need in graduates.
Expand your professional network from wherever you are
Online study doesn't mean studying on your own. You'll connect with a community of other like-minded students – you'll be able to share, debate and collaborate ideas through virtual classrooms, online chat, video conferencing, and online communication tools.
1 Ranked #4, 2020 QILT Employer Satisfaction Survey –Graduate Employability Skills Indicator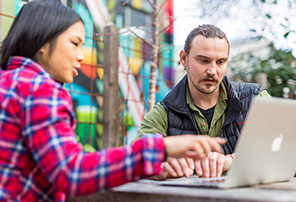 Studying can be challenging, especially when you're also juggling work and other life commitments. You're not studying 9-5, Monday to Friday, which is why we provide personalised, extended hour support services – including on weekends – so you can get help when you need it.
Dedicated Student Adviser support
Our Student Advisers will be an important part of your student journey – they'll help you enrol, discuss your study goals, communication preferences, and will be your first point of call for all your general study questions. They'll link you to an extensive range of support services and resources across the University and will help schedule appointments with specialised services if required.
Online academic support seven days a week
You'll be supported by our highly experienced academic team of Online Course Facilitators and Online Tutors. Our academics will guide you through your learning and ensure you have an outstanding, high-quality education.
They can help you with your course materials and assessments, provide feedback on your work, assist you with referencing as well as answer any other course-specific queries. You'll be able to contact your academics via email, online discussion forums and live messages in the online learning environment.You can also communicate in real-time and chat face-to-face with your academics online.
24/7 tech support
Our IT Help Desk is available 24/7 to provide assistance with your computer set up, student email, software requirements and other UniSA apps and student applications. You'll be able to get support no matter what time it is.
Our interactive online environment is a one-stop-shop for all your study needs. You'll be able to track your progress through the student dashboard, plan your study schedule, receive reminders on due dates for tasks and assessments, as well as collaborate and network with a community of other like-minded students.
Using innovative technology in online education, your study experience will be highly personalised based on your learning activities throughout your degree. Just like your own personal study coach, you'll get tailored feedback to enhance your learning outcomes and ensure you're successful in your studies.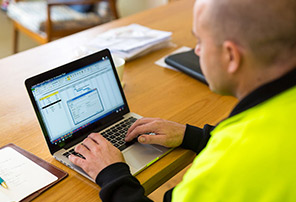 I've studied partially online in the past at a different institution, but my experience at UniSA Online has been completely different. It's amazing because every course has been thoughtfully put together for online students. The support has been fantastic.

My student adviser has been really helpful with answering questions about fees and also put me in touch with the University's disability services team who helped me put together my access plan.
Nicole Park
UniSA Online student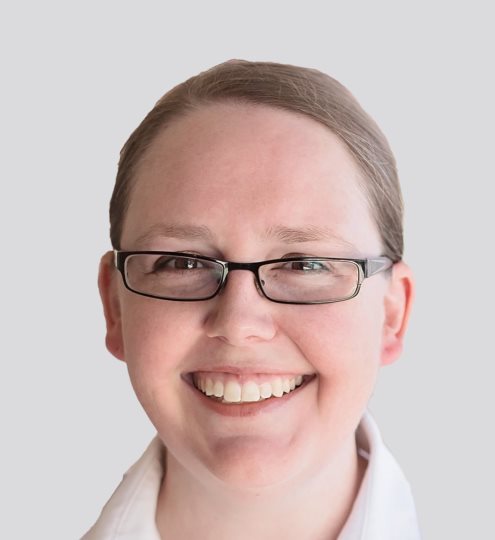 IT Requirements
As a general rule of thumb, any desktop or laptop computer purchased in the past three years should be capable of meeting your online learning needs. While mobile devices such as tablets and smartphones will be able to access most of your online course content, there are likely to be elements of most courses where we recommend you use a desktop or laptop computer. Your computer should be able to:
run a modern browser (Internet Explorer 10, Firefox 24, Safari 5, or Chrome 32 or later versions)
run Java, and in some cases Flash (devices running on Apple's iOS operating system, such as iPads, iPhones, do not run Flash)
run programs to create documents, spreadsheets and presentations
use a web camera and headset (or ear pods with microphone)
Some UniSA Online degrees require an online exam. The online exam software – Remote Proctor Now – has specific capability requirements. Please refer to the system requirements prior to conducting your exam to ensure your computer is compatible.
Access free IT software and resources
As a UniSA Online student, you'll:
Get free access to the full Office 365 ProPlus suite, which includes full versions of Word, PowerPoint, Excel, Outlook, OneNote, Publisher, Access and Lync software. Install the full suite on up to five different devices (PC and Mac compatible).
Get 1Tb of personal storage that syncs with your PC or mobile device through OneDrive - it's like an extra hard drive that allows you to open any of your files from any of your devices, whenever you need them.
Get free access to LinkedIn Learning - Access more than 5000 video courses on a broad range of topics such as: the Microsoft Office suite, time management and study skills, health and wellbeing, communication and presentation skills, photography, film making and designing your own games or mobile apps.
Be able to connect with others using Skype for Business, Yammer and the Outlook Web App.
There are some degrees that have specialised software requirements. We've made this software available to students to access for free - you'll be able to download and install any of the required programs on your own device anywhere and anytime. See if your degree requires specialised software.
Check your device
Our computer system test will determine if your device has the base system resources and software required to study online. It'll also check the speed of your internet connection.
See if your computer, laptop or device is all set up and ready to go – it takes just a few seconds.
The application process is easy – just follow these simple steps:
Check your eligibility


Take our eligibility checker and answer a few short questions to see if you're eligible. You'll be given an option to continue your application, save it for later or request a call back from a Degree Adviser if you have any questions.



Gather your relevant documents


If you're eligible, you'll receive an email outlining the entry requirements and the relevant documentation you need in order to be considered.

In order to verify your academic qualifications, you'll need to upload relevant documents like your official parchment, certificates or transcripts. If you have work experience, you will need to upload your CV as well as any other documents like work references, professional recognition or accreditation or your training certification.

Your email will contain information on the specific documents you need to provide as well as a link to log in to your application. You'll be asked to create an account and set your own password.



Complete your application and send through your documents

In order to proceed with your conditional offer, you'll need to complete your application and provide required evidence of your previous study or work experience.