You're viewing degree information for Australian students
You're an Australian student if you are any of the following:
Australian or New Zealand citizen
Australian Permanent Resident (including Humanitarian Visa holders)
Please remember your residency (the country you are currently in) has no impact on where you are an Australian or International student.
Marketing and Communication
Interested in Marketing and Communication?
A degree in marketing and/or communication can take your career in countless directions.
It can open up the worlds of advertising, PR, digital marketing and social media. It can land you in data-driven analytical roles, help you to focus on writing and content creation, or maybe even launch your own business. Whether you're in need of a broad set of skills or a specialised area of expertise, with our marketing and communication degrees, the career opportunities are endless.
UniSA Online offers the following Marketing and Communication degrees
Choose your level of study
What study option is right for me?
Bachelor of Business (Marketing)

Bachelor of Communication

Bachelor of Marketing and Communication

What are the key differences?

Develop a solid understanding of business fundamentals before moving into your marketing specialisation.
Study courses in market research, business intelligence and analytics, consumer behaviour, advertising, retailing and brand management.
Focus your studies on social media, content creation and/or journalism.
Develop technical skills in writing and editing.
Study courses in public relations, communication research, promotional communication and strategic communication planning.
Develop a broad and versatile skill set across areas including social media, advertising, public relations, content creation, marketing analytics, retailing and brand management.
Study a combination of courses from the Bachelor of Business (Marketing) and Bachelor of Communication.

Career opportunities

Market analyst
Media planner
Brand manager

Social media manager
Communication officer
Content writer
Media liaison officer
PR coordinator
Online community manager

Marketing and communication officer
Brand and advertising manager
Media planner
Digital manager

Unique courses in your degree

Unique courses you'll study that aren't included in the Bachelor of Marketing and Communication:


Business and Society
Quantitative Methods for Business
Professional Development in Marketing
Principles of Economics
Market Research
Business Operations
Management and Organisation
Strategic Management
International Business Environments

Unique courses you'll study that aren't included in the Bachelor of Marketing and Communication:


Intercultural Communication
News Reporting
Professional and Technical Communication
Content Creation for Media
Language and the Media
Broadcast Journalism
Social Media Engagement
Advanced News Writing

Digital Marketing is a unique course to this degree.
Learn emerging trends in digital marketing including online advertising, mobile marketing, and customer relationship management (CRM) strategies.

100% online

Credit offered
Become a social media expert
Elevate your marketing and communications career with in-demand social media skills. Learn to develop and implement social media campaigns to gain followers and create conversations with your audiences. Write engaging online content, create content calendars and develop social media schedules.

Choose the following courses as part of your elective sequence to graduate with a minor in social media:
Introduction to social media
Content creation for media
Media Law and Ethics
Social Media Engagement
Why Study Online?
Our 100% online, career-focused degrees give you full control and ultimate flexibility over your study.
Study 100% online
There's no need to come onto campus. All your course content and assessments are fully online.
Designed specifically for online learning
Experience interactive and media-rich course material designed specifically for online learning.
Get the help you need
Whether you need help with course content or assessments, we offer the academic support and services you need to be successful in your studies.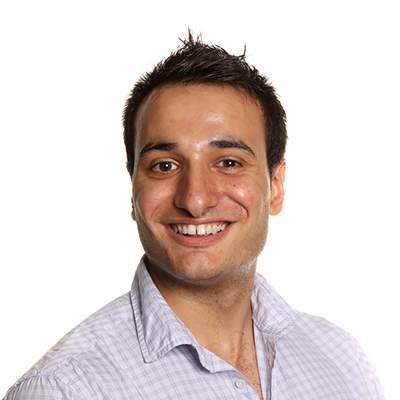 "I lead a team that's responsible for Foodland's advertising, communications, media, sponsorships, public relations, and consumer insights. No two days are ever alike. One day, I might be planning the next advertising campaign and media schedule, the next I could be talking about opportunities with a new sponsor and planning point of sale material. Having such a diverse skill set in both marketing and communication, while staying abreast of all the digital platforms, is pivotal to my role. "
Christopher Villani
UniSA graduate
General Manager of Marketing, Brand and Insights
Foodland Supermakets