You're viewing degree information for Australian students
You're an Australian student if you are any of the following:
Australian or New Zealand citizen
Australian Permanent Resident (including Humanitarian Visa holders)
Please remember your residency (the country you are currently in) has no impact on where you are an Australian or International student.
Marketing and Communication
Interested in Communication, Marketing and Media?
A degree in communication, marketing, and/or digital media can take your career in countless directions.
It can open up the worlds of advertising, PR, digital marketing and social media. It can land you in data-driven analytical roles, help you to focus on writing and content creation, or maybe even launch your own business. Or, you could find yourself in the digital sphere designing webpages or curating virtual reality collections. Whether you're in need of a broad set of skills or a specialised area of expertise, with our communication, marketing and media degrees, the career opportunities are endless.
Study with the world's #1 for brand management research1
UniSA Business is in the top one per cent worldwide2 and has been awarded an overall five stars for excellence in the QS Stars Ratings 2022.
1AFR BOSS Magazine, April 2018 - League of Scholars.
2UniSA Business is one of just 12 institutions in Australia and approximately 200 globally (from over 25,000 universities) to be EQUIS accredited. EFMD, March 2022.
UniSA Online offers the following Communication, Marketing and Media degrees
Choose your level of study
Undergraduate (4)

Degrees
MODE OF STUDY
START DATE
Bachelor of Business (Marketing)
Online
Jan, Apr, Jul, Sep
Bachelor of Communication
Online
Jan, Apr, Jul, Sep
Bachelor of Marketing and Communication
Online
Jan, Apr, Jul, Sep
Bachelor of Digital Media
Online
Jan, Apr, Jul, Sep
What study option is right for me?
Bachelor of Business (Marketing)

Bachelor of Communication

Bachelor of Marketing and Communication

Bachelor of Digital Media

What are the differences

Develop a solid understanding of business fundamentals before moving into your marketing specialisation.
Develop a versatile skillset in social media, advertising, market research, consumer behaviour, and brand management.
Be guided by experts from the Ehrenberg-Bass Institute for Marketing Science.
Combine creative thinking with data analysis to create marketing strategies that achieve organisational goals.

Learn how to deliver effective communication strategies across a range of traditional and emerging digital media platforms.
Focus your studies on social media, content creation and/or journalism.
Study courses in public relations, communication research, promotional communication and strategic communication planning.
Complete a comprehensive, industry-standard communication plan that you can add to your resume.

A combination of the Bachelor of Business (Marketing) and Bachelor of Communication, you'll:



Develop a versatile skill set across areas including social media, advertising, public relations, content creation, marketing analytics, retailing and brand management.
Learn emerging trends in digital marketing including online advertising, mobile marketing, and customer relationship management (CRM) strategies.
Combine creative thinking and data analysis to develop effective integrated marketing and communication campaigns in a digital era.

Develop essential digital skills including graphic and web design, social media management, content creation, video and audio production, animation and digital storytelling.
Bring creative ideas to life in visually engaging ways to help businesses and their brands communicate with people more effectively.
Get hands-on using the latest digital software and graduate with an industry-standard portfolio of work.

Career opportunities

Market analyst
Media planner
Brand manager
Digital marketer
Marketing and communication officer

Social media manager
Marketing and communication officer
Content creator and writer
Media liaison officer
PR coordinator
Corporate communication adviser

Brand and advertising manager
Marketing and communication officer
Content creator and writer
Media planner
Digital manager
Market analyst
PR coordinator

Digital content creator/producer
Online journalist
Web designer
Virtual reality curator
Visual communication designer
Freelancer

Courses in your degree

Essentials of Marketing Planning
Marketing Analytics
Consumer Behaviour
Advertising
International Business Environments
Market Research
Strategic Management
Entrepreneurship for Social and Market impact
Business Intelligence

Content Creation for Media
Integrated Communication Planning
News Reporting
Broadcast Journalism
Advanced News Writing
Language and The Media
Intercultural Communication
Web Design

Communication Management In Practice
Consumer Behaviour
Content Creation for Media
Integrated Communication Planning
Advertising
Media Law and Ethics
Design for Digital Technologies

Animation design
Design for Digital Technologies
Digital Documentary
Digital Mediascapes
Innovative Curatorial Studies
Digital Graphics and Imaging
Introduction to Video Production

100% online

Credit offered
Become a social media expert
Elevate your marketing and communications career with in-demand social media skills. Learn to develop and implement social media campaigns to gain followers and create conversations with your audiences. Write engaging online content, create content calendars and develop social media schedules.

Choose the following courses as part of your elective sequence to graduate with a minor in social media:
Introduction to social media
Content creation for media
Media Law and Ethics
Social Media Engagement
Why Study Online?
Our 100% online, career-focused degrees give you full control and ultimate flexibility over your study.
Study 100% online
There's no need to come onto campus. All your course content and assessments are fully online.
Designed specifically for online learning
Experience interactive and media-rich course material designed specifically for online learning.
Get the help you need
Whether you need help with course content or assessments, we offer the academic support and services you need to be successful in your studies.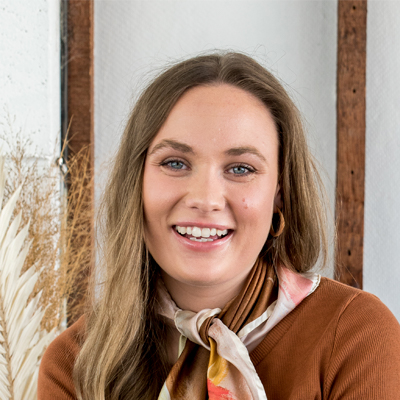 "Studying with UniSA Online meant that I was able to continue working and living life whilst upskilling at the same time. It's perfect if you want to gain extra skills or brush up on existing ones without sacrificing other areas of your life. My experience studying a course with UniSA Online has been great. You can study on your own terms, whenever you like. The experience you get is determined by how much you put in. The online tutors are always available and there are plenty of opportunity to ask questions, so you never feel alone.
Recently, I helped kick-start a business called FIL Society, an online lifestyle publication providing articles, videos, services and virtual classes on yoga and wellness. I needed to make sure my skills were up to scratch so I could take lead in the editorial department. Through my News Reporting course with UniSA Online, I've gained unique skills that are vital for a career in any media field. I currently oversee 40 writers sharing their businesses and inspiring stories and also write articles on some pretty amazing people."
Katelin Rice
Head of Media, FIL Society
UniSA Online News Reporting course