What it's like to study Digital Media 100% online
Digital Media student, Corey Wade, gained the skills and confidence to launch his freelance business while studying with UniSA Online.
"Studying online was an opportunity to turn my hobbies and interests into an actual career."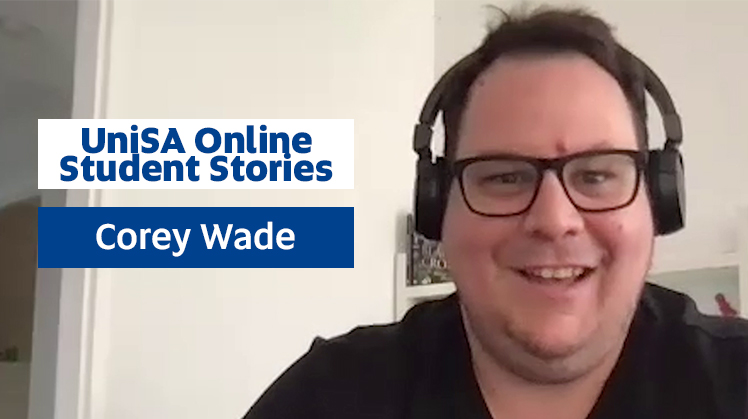 Why have you decided to study at this point in your life?
I've always loved using my creativity to tell stories. Studying online was an opportunity to turn my hobbies and interests into an actual career. I have always wanted to complete a degree but having a young family and working full-time made it difficult to commit to on-campus study. Having two children throws some curveballs!
Once I found out that UniSA Online was offering Digital Media, it was an easy decision to make. I was finally able to do something I'd always wanted to do. The flexibility of being able to study online was a massive win for me. It allows me to continue to work full-time, create my study schedule, and importantly adapt to unexpected things and life events that pop up out of the blue.
"Having a young family and working full-time made it difficult to commit to on-campus study."
Check your eligibility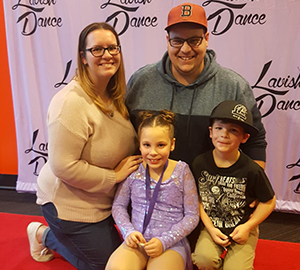 Can you tell us about your newly launched business?
The skills I've learned in my degree and the amazing support I've received from my online academics have given me the confidence to launch my own freelance business.
Storyteller Media offers services in photography, videography, social media, web design and content creation. One thing that has been reiterated through my Digital Media degree is that you have only three seconds to grab someone's attention. My goal is to help businesses get their brands seen and noticed. In the future, I would love to create content on a full-time basis and give back to my local community.
What was the transition like from studying to launching a new business?
I'm currently studying, working, managing a family and now managing a new freelance business.
The transition was much harder than I had originally planned. I was confident in my skillset and what I had to offer, but it's all the little things you don't necessarily think about that catch you out. One of the transferrable skills I've developed in my degree is the ability to plan, organise and research. This has helped me immensely. However, as all business owners would know, it's hard to prepare for everything. Thankfully I've had some great people in my corner to provide guidance and be a sounding board for any curly things that have come my way.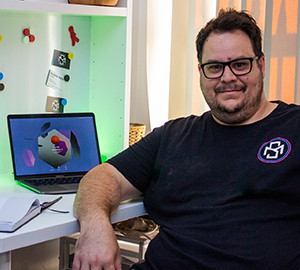 "The skills I've learned and the support from online academics gave me the confidence to launch my freelance business."
Check your eligibility
What are some of your biggest learnings and achievements to date?
2020 has been a challenging year. I would say that my biggest achievement, and what I am most proud of, would be sticking with it and continually adapting my plans. Not throwing in the towel is a big achievement in itself! My biggest learning would have to be the fact that there is always another big learning just around the corner, which is great, because it gives you another layer of appreciation for the work that you are creating.
Through my degree, I also feel like I'm growing as a person. I'm becoming a better version of myself and a better dad for my children.
If you could give your past self a few words of advice knowing what you do now, what would you say?
Embrace the process and be flexible. Study is about the process and learning from even the smallest of mistakes or misunderstandings. Don't sweat the small stuff!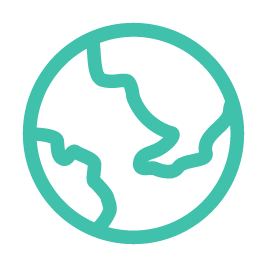 100% online
No need to come onto campus
Credit for prior work experience
Fast-track your study

Support 7 days a week
Get help when you need it
Read more student stories
Why study with UniSA Online?
#1 in Australia and #6 worldwide for quality education
(2020 THE University Impact Rankings)
85% UniSA Online student satisfaction for learning resources and student support
(Commencing UniSA Online Students, 2020 ComparED (QILT) Student Experience Survey (Undergraduate, Domestic Students). National average for learning resources: 79%)
87% satisfaction for teaching quality and student support
(Commencing UniSA Online Students, 2020 ComparED (QILT) Student Experience Survey (Undergraduate, Domestic Students). National average for teaching quality: 82% National average for student support: 77%)
UniSA is one of Australia's largest online universities
Ranked 5th, 2019 Department of Education and Training Data –Commencing Domestic Bachelor Degree Students (External)
Top 5 Young University in Australia
Ranked #4, THE Young University Rankings 2020
Ranked in the world's top 50 under 50
(Ranked #25, 2020 THE Young University Rankings Ranked #29, 2021 QS Top 50 Universities Aged Under 50)