Get help when you need it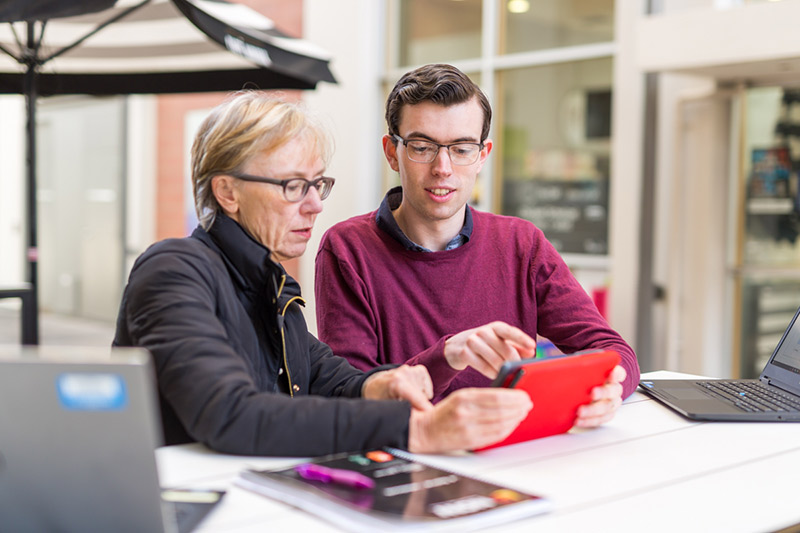 Studying can be challenging, especially when you're also juggling work and other life commitments. You're not studying 9-5, Monday to Friday, which is why we provide personalised support services over extended hours – including on weekends – so you can get help when you need it.
Our service commitment to you
Whether you need help with assignments, referencing, administrative or technical support, you'll have on-demand access to a team who'll be there to support you, every step of the way. We're committed to ensuring you have a positive online learning experience, setting you up well to help you achieve your career goals.
Dedicated Student Adviser support to assist you with your studies
Access online academic support seven days a week – including at night on weekdays
Student Support Services Student Advisers
You'll have access to the Student Adviser support team who are dedicated to supporting you throughout your studies. Our Student Advisers will help you enrol, discuss your study goals, communication preferences and will be your first point of call for all your study questions. They'll give you advice on appropriate support services and resources available to you and will help schedule appointments with specialised services if required.
Online study support and resources
Our Study Resources website is an online hub of online resources to develop your academic and study skills. These include a wide range of short videos and downloadable guides to help you participate effectively in your courses and complete your assessments and exams.
Chat to a Learning Adviser
Learning Advisers can provide study and assignment assistance to help you achieve your academic and professional goals. They'll help you with things like understanding your assessment tasks, provide advice on writing essays and reports and will help you develop academic reading and writing skills.
As a UniSA Online student you'll be able to book an appointment at a time that suits you.
Ask the Library
Can't find a particular eBook, journal article or online resource? Ask the Library is a virtual service that assists students to locate, access, evaluate, use and reference a range of information resources. UniSA Online students, like all UniSA students, will be able to access the Ask the Library service via a range of channels, including proactive chat, email and phone.
Discover the broad range of guides and videos designed to help you with your assignments.
Free access to Lynda.com
All UniSA students have access to more than 5000 video courses on Lynda.com. Videos cover topics such as: the Microsoft Office suite, time management and study skills, health and wellbeing, communication and presentation skills, photography, film making and designing your own games or mobile apps.
Student services
Access and inclusion services - disability support
Access and Inclusion services are all about supporting and empowering students to achieve their academic goals and participate in all aspects of university life. Along with a wide range of support services for students with access needs, students can also speak to Access and Inclusion Advisors who are available for appointments via phone and online. They'll be able to provide confidential advice and support in organising a formal plan of study support, which is shared with the student via email. All of our course videos and online learning resources also have transcripts and/or captions and are designed to meet the gold standard for accessibility.
Counselling and wellbeing services
You'll have access to a team of Counsellors, who offer free and confidential counselling to help you manage any personal, health and wellbeing issues that could affect your studies. Our Counsellors are highly qualified, have extensive experience working with university students, and have been specifically trained to support students learning online. They'll also be able to refer you to local specialised or additional support in your state.
Where to find help
Make an appointment with UniSA's free and confidential counselling service. For help after hours, contact the UniSA Out-of-Hours Crisis Line: 1300 107 441 or text 0488 884 163 (5:00pm to 9:00am weekdays and 24hrs weekends and public holidays).
Wirringka Student Services
Wirringka Student Services offers a suite of online resources for Indigenous and Torres Strait Islander students studying with UniSA Online. Aboriginal students will have access to a dedicated tutor through the Aboriginal Tutorial Program, via phone and skype, which is available over extended hours. Our online academics provide help with all areas of study including course content, time management, academic writing, essay planning and referencing skills.