With employment for sales, marketing and public relations professionals in Australia on the rise*, there is no better time for people looking to start or advance their career in the marketing industry. In an increasingly digital world, marketers have faced unprecedented change over the past few years – and this is not slowing down any time soon.
As new channels, new technology and new consumer models continue to evolve, employers are looking for people with the skills to adapt quickly and stay abreast of the latest developments. Our UniSA Online marketing degrees collate the most in-demand skills marketing professionals need to succeed in the sector, from campaign coordination to social media management, and market research and data analysis.
* Australian Government Department of Employment, Occupational Employment Projections 2019.
Top marketing skills employers look for
Ability to coordinate integrated marketing and advertising campaigns
Ability to conduct market research and interpret qualitative and quantitative data
Familiarisation with social media channels like Facebook, Twitter, LinkedIn, Instagram and Snapchat
Strong verbal and written communication skills
Creative thinking, storytelling capabilities, customer knowledge
Marketing Jobs
Employers are looking for savvy business professionals who can create integrated campaigns that cut through the clutter, build meaningful relationships with customers, improve their competitive advantage and achieve organisational objectives.
A career in marketing can take you in several different directions – from traditional advertising, PR and digital marketing. Having a broad skill set will be invaluable to your career. However, you may choose to hone your expertise in a more specialised role.
How do you get into marketing?
If you're looking to make a career change in Marketing, studying a university degree is a great option to launch your new career. UniSA Online's Marketing degree will give you the knowledge and skills that employers are looking for while giving you the flexibility to continue working while you study.
Want to upskill in your current role?
Are you currently working in marketing, communication, or PR roles and want to expand your skills to advance your career? Or perhaps you work in a completely different industry and are required to perform marketing-related functions for an organisation, and have learnt your skills on the job.
People interested in studying a marketing degree can come from a range of roles including:
Marketing and communications assistant
Digital marketing officer
Advertising executive
Public relations officer
Media planner
Sales representative
Event organiser
Whether you're looking to upskill and advance your current career or embark on a career change, UniSA Online's Marketing degree will give you the skills to help you achieve your goals.
Develop a broad skill set in brand management, advertising, retailing, strategic marketing, market research, as well as business intelligence and analytics. Learn from experts who advise global brands like P&G, Nestlé and CBS.
Learn more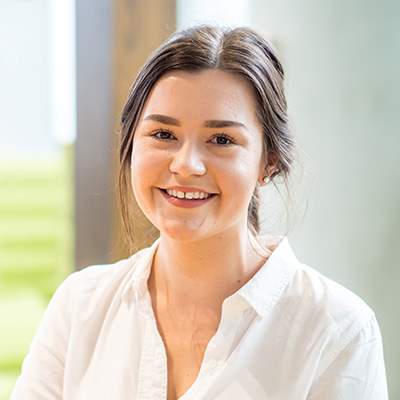 Industry insight
My Marketing degree gave me an insight into a great number of areas related to marketing, from business management to communications, public relations and even law. Developing an understanding of these professions was beneficial in a number of ways – but has helped my career working at a large national organisation greatly.
My role at Bendigo and Adelaide Bank works closely with other internal teams - coincidently including social media, public relations and law teams - and my studies in these areas have supported my knowledge of the functions and their responsibilities. Essentially this means I know what they do, why they do it, and how.
Terri Feil
UniSA graduate
Marketing Manager
Bendigo and Adelaide Bank
#2 in Australia for graduate employability
2021 QILT Employer Satisfaction Survey – Graduate Employability Skills Indicator. Public universities.
Top 10 Young University in Australia
2022 THE Young University Rankings
Ranked in the world's top 50 under 50
Ranked #29, 2021 QS Top 50 Universities Aged Under 50, Ranked #46, 2022 THE Young University Rankings