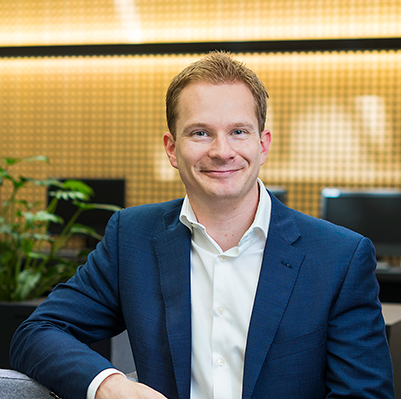 UniSA Online Executive Director, Tom Steer has been named as one of South Australia's leading business entrepreneurs aged under 40 in InDaily's 40 Under 40 awards.
Tom joined the University in 2017 to lead the start-up and ongoing operation of UniSA Online, the University's online education arm that delivers a suite of career-focused 100% online degrees.
"This award reflects how far UniSA Online has come in a short period of time due to our collaborative and customer-focused culture as well as the commitment from so many people across UniSA," Steer says.
"As a start-up, we were in a unique position to completely redesign the experience for our online students.
"Our degrees have been specifically designed for online learning and our academic and support services are second to none.
"Time is a precious commodity for working adults – and we had this top of mind when building our degrees. Students can access the course materials whenever it suits them and complete assessments fully online.
"Our academic staff are available seven days a week. Students also have access to team of Student Advisers that provide personalised study support over extended hours and on weekends," he says.
With thousands of students across the country now enrolled, and a majority from interstate, it's clear that the combination of quality and convenience is striking a chord.
"To see UniSA Online grow so rapidly, and to hear such positive feedback from our students has been really positive.
"We have ambitious goals to be recognised as the best online education provider in Australia. We launched with 11 degrees, and will offer 20 degrees by the end of 2020 – with our sights also set on expanding our offerings to overseas students"
Previously Chief of Staff for Australia and New Zealand at global IT giant, Hewlett Packard Enterprise, Steer says industry collaboration will be a key priority moving forward.
"We're focused on strengthening our existing industry relationships and building new partnerships to ensure our degrees meet current and future workforce needs. We want to make sure that our graduates are fully equipped to take the next step in their career.
Tom is also a graduate of UniSA where he completed a Bachelors and Masters degree in Business Information Systems.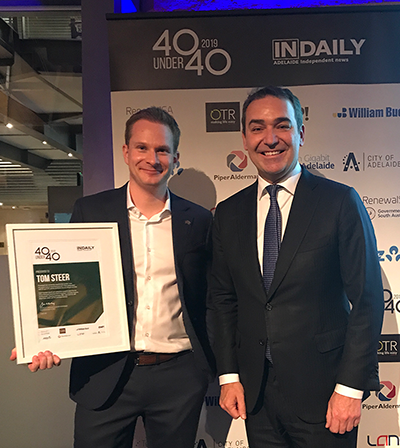 He is now an industry mentor in the UniSA Business Career Mentor Program, mentoring current students and recent graduates, sharing experiences and insights, advising on career progression and helping students develop their leadership skills.
The 40 Under 40 Awards celebrate the passion, vision and achievements of South Australia's finest young business people under the age of 40, and the contribution they are making to the future of South Australia. The awards recognise the personal determination, commercial drive and philanthropic pursuits of future business leaders. An assessment panel representing the South Australian business community judged the nominees against a selection criteria, and identified the 40 young business leaders who have been outstanding in creating or growing a business in South Australia.
The winners were announced at a gala event at the National Wine Centre on 6th June.
Visit unisaonline.edu.au for more info.
UniSA media contact:
Michèle Nardelli phone: +61 418 823 673 or +61 882960854 email: michele.nardelli@unisa.edu.au