We've compiled the top study tips so you can get the most out of your online university experience.
1. Make a study plan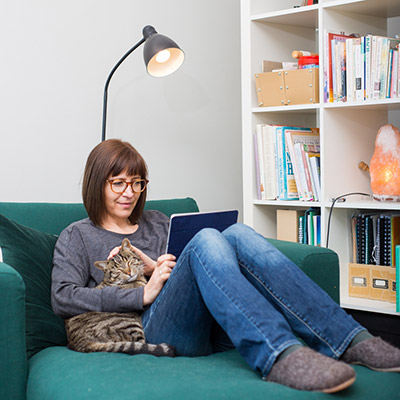 Weekly study demands may fluctuate over the term and between courses. Plus, you'll be managing everyday life and work commitments so some weeks may be busier than others. Planning your study schedule in advance can make all the difference. Use our study planners to help you keep on top of your study workload and busy assessment periods.
Hear from other students who have fit study into their lives.
2. Set up your study space
Finding a comfortable space with minimal disruptions is a crucial part of studying online. It could be your kitchen bench, on the sofa, or at your local library. If you're always on the go, you can watch a video on the train on the way to work, and come back to do an interactive quiz later that night. Make sure your study space is set up with the right technology – at a minimum, you'll need a laptop or a computer as well as a reliable internet connection.
See what you need to study with UniSA Online.
3. Connect with other students
Being a university student is much more than just achieving academically. With opportunities to interact with peers and teaching staff via a range of online communication tools, there can be a greater feeling of personal connection than from that of a classroom environment. Participate in online chat, discussion boards and virtual classrooms - these will only enrich your learning experience.
Discover our 24/7 interactive online environment.
4. Ask for help when you need it
UniSA Online has a unique support network to help you at every stage along the way. You'll be supported by a team of Student Advisers, online tutors and IT support 7 days a week. You'll also have access to personalised career advice, counselling and wellbeing services, disability support, Wirringka Student Services, Learning Advisers, Library staff and more over extended hours.
It's also important to reach out to family and friends when you need them the most. The support of those around you is very important to your success, health and wellbeing.
5. Explore the orientation website
Once you're a student, the UniSA Online orientation website is packed with essential information, tips and resources to help you navigate the online learning environment with confidence. You'll get to know our staff and support services and will hit the ground running from the start. Make sure you bookmark the site, and come back to it at any time when you need a reminder of the tips, tools and strategies for online study.
Embark on your journey with UniSA.