More than 1.5 million Australians have studied their university degree online over the past 10 years – and this number is steadily increasing. As a new year begins, many of us will be taking some time to reflect on our career, and the year just gone – it's a common time to identify professional development opportunities to learn new skills to land that next big role. Studying an online degree is not only an opportunity to upskill, it's also often the only choice for busy adults who need to juggle work, life and family commitments.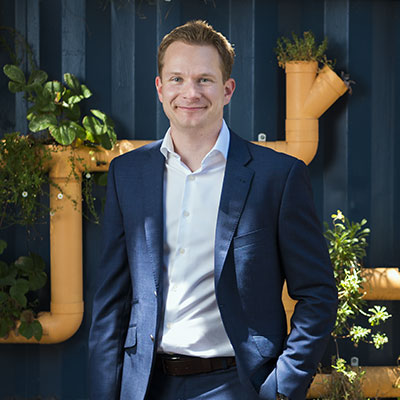 UniSA Online Executive Director and UniSA alumnus, Tom Steer, is driving the University's new offering for online learners – a suite of 12, 100% online undergraduate degrees for students to Study On Demand – anywhere, and anytime.
Previously Chief of Staff at global IT giant, Hewlett Packard Enterprise, Tom is no stranger to the University. He led the development of the joint UniSA HP Innovation and Collaboration Centre, as well as the highly successful Bachelor of Information Technology (Enterprise Business Solutions) program, which included a 12-month paid internship at HP (now DXC Technology).
You often compare UniSA Online to a start-up – what are some of the similarities?
I think the major similarities with a start-up are focus and culture. Start-ups are very clear about why they exist. At UniSA Online, our purpose is to create exciting futures through online learning – we're 100% focused on providing the best experience and outcomes for our students.
One of the unique things about UniSA Online is that all of our academics, educational designers, student support, student recruitment, and marketing staff are all under one roof – this has been extremely important in fostering a collaborative and innovative culture that encourages the team to test new ideas, solutions and strategies.
In saying this, the big difference from a start-up however is that this is core business for UniSA – online education is not a new concept for the University. In fact, we've been delivering high quality online education for more than 25 years – and the existing expertise we have in each discipline area has been paramount in developing these degrees.
What kind of exciting innovations are we seeing from UniSA Online?
Time is a precious commodity for working adults – and we had this top of mind when building our degrees. Students watch short videos rather than long lectures and complete interactive activities as part of their studies, which they can complete anywhere, any time, and on any device. It's completely different to traditional ways of learning.
Graduates will come out with the skill and knowledge that industry are telling us they need – but we've also paid particular attention to ensuring students develop transferrable skills like communication, project management and teamwork skills in an online environment.
UniSA Online is all about designing smarter ways of learning - it's not a case of shoehorning face-to-face degrees into an online format. We've built and redeveloped more than 200 courses, which have been designed exclusively for online learning – and we've delivered a brand new interactive online environment, where students will be able to track and monitor their progress.
As part of our delivery, we're also offering four terms per year, which means students can study two courses per term, and still finish in three years - so it's quite achievable. They can also get credit for relevant work experience to help them obtain their degree even sooner.
Can you please tell us about the extra support that a UniSA Online student should expect to receive?
We've recruited a team of Student Advisers, who provide personalised advice and support, whether it's helping students enrol, developing study plans or helping the students access the full range of University support services. Our Student Advisors act as a study buddy for our students from enrolment to graduation.
We're also building learning analytics and educational development research into these new degrees, which is really exciting for us, especially as we'll be able to proactively engage, and reach out to students who need support and guidance.
What's on the horizon for UniSA Online?
We were excited to welcome our very first cohort of students recently on 8 January. We know student expectations are high – and we're committed to ensuring every student gets what they need to succeed. We'll continue to innovate, to explore new technologies and platforms, and use our learnings to refine and improve the online student experience.
While I was working at HP, we decided to partner with UniSA because of the University's openness to collaborate, its practical focus as well as its innovative culture. At UniSA Online we've worked closely with industry to ensure our degrees meet current and future workforce needs, while developing the skills and attributes that will give graduates a point of difference in their career – and this will continue to be a focus for us moving forward. We look forward to strengthening our existing industry relationships and building new partnerships.
We have ambitious goals to be recognised as the best online education provider in Australia. By 2020, UniSA Online will offer 20 undergraduate online degrees – with our sights set on expanding our offerings to overseas students. There's been a tremendous amount of work that has got us to where we are today – but our story is only just getting started.