Missed our Facebook Live event? Will from the UniSA Online Degree Adviser team shares the top five questions people are asking.
How much will my online degree cost?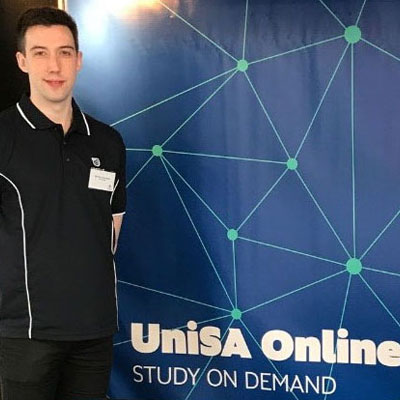 Fees for UniSA Online degrees work in the same way as all of our other on-campus degrees.
As a domestic undergraduate student, you may be eligible to apply to defer payment of some or all of your tuition fees via the Commonwealth Government's HECS-HELP (Commonwealth supported program) or FEE-HELP (fee-paying program) loan schemes.
This means the Government makes a contribution towards the cost of your degree. As the Government contribution varies per degree, the amount you pay will vary by degree as well. Students will also need to pay a Student Services and Amenities Fee.
Visit our Student Contributions page for current fees.
Did you know you may be eligible for $1000 to support your online studies when you enrol? Learn more about the UniSA Online study grants.
Do I get credit for work experience and previous study?
Yes! By answering a few short questions, our simple online credit check will tell you what you're eligible to receive. It takes just one minute – and it could save so much of your time by fast-tracking your studies and reducing the time needed to complete your degree. That's time well spent, if you ask me!
As part of your application, we'll ask you to submit your CV as evidence of your experience. Depending on the information available in your CV, we may ask if you can provide further documentation such as work references, evidence of professional recognition or accreditation, or training certifications. A handy tip: make sure your documents are certified.
For some students, additional credit may be awarded at the time that your applications is assessed – however, this is assessed on an individual basis.
Do I ever need to come on to a physical campus?
Our degrees are delivered 100% online so you can Study On Demand – you'll never need to set foot on campus.
Everything you will need to study is accessible online – you'll be able to access a library of more than 700,000 digital resources including e-books, videos and journal articles, right at your fingertips. Log in to the interactive online learning environment anywhere, any time, on any device and collaborate with other students across Australia. Plus, we've got support staff available seven days a week to help you at every point along the way.
Learn what it means to Study On Demand
How many hours will I need to commit to my degree?
This is completely up to you – however as a general rule, we recommend 10 to 15 hours of study a week for each course.
One of the many benefits of studying a UniSA Online degree is that you can engage with course materials and learning activities at your own pace, whenever it suits you – there is no need to be online a set time. That means your schedule is completely flexible around your life, so you can fit in work and other life commitments around your study.
Hear from other UniSA students who have fit online study into their lives.
Will I need to sit exams, and will I need to come to an exam centre?
Some degrees may require you to sit exams, while others may not – it's best to double check on the individual course pages or ask your Student Adviser However, the good news is that for UniSA Online students, all exams are also 100% online. No need to come to an exam centre.
Online exams are taken on your own computer in your own home under regular exam conditions. This means you must be in a room on your own with no visible signs of assistance – for example, notes on your desk. Your computer will require a webcam and microphone and you will download special software that records both your screen and webcam during the exam. The exam footage is monitored at the conclusion of the exam and any breaches in exam policy are reported to the University.
View courses on each degree page.