Meet UniSA Online's new graduates
After losing his job in the automotive industry, UniSA Online Accounting graduate Jagdeep is looking forward to building a new career.
"I was ultimately forced to think about and choose another career that had more stable career prospects." What were the personal and professional motivations for changing your career?
After moving to Australia, I gained employment in the automotive industry and worked with major companies such as Holden, Toyota, and Ford. At the time, it was a booming industry and I found it very interesting. Over the years, I learned several new methods such as Six Sigma, Poke Yoke, Gamba Kaizen, and PPAP.
Due to changing economic conditions, many major automotive manufacturers moved overseas and had to shut down. Unfortunately, my company was one of them and I was made redundant. After that, my career opportunities in the automotive industry became severely limited. I was ultimately forced to think about and choose another career that had better and more stable career prospects.
Have you always wanted to study at uni?
It's always been my dream to call myself a university graduate. When I moved to Australia, I wanted to set myself up financially before I started studying. But I found myself delaying the decision and kept procrastinating. When my automotive company moved overseas, it left me sad and disappointed, but I believe every cloud has a silver lining and was the real push I needed to finally enrol in a university degree.
After lots of research on university websites, I decided to choose a career that was not only rewarding but also would be future proofed in years to come. Finding UniSA Online's Accounting degree was the perfect fit.
"I believe every cloud has a silver lining and was the real push I needed to finally enrol in a university degree."
Check your eligibility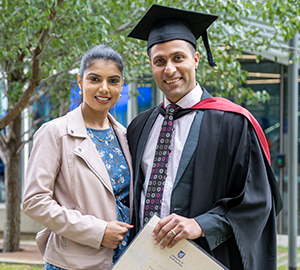 What kind of opportunities does 100% online study give you?
If the degree had not been offered fully online, earning a degree would not have been possible at all.
I have financial commitments and responsibilities, which meant that not working or working part-time was out of the question. It was one of the main reasons I kept postponing my decision to start a university degree. I quickly realised that with UniSA Online, you can continue to work full time because there is no need to travel to a campus and attend lectures.
Studying 100% online also gives me a great deal of freedom to study at my convenience. I could study and watch the short weekly videos when it suited me. For me, the best times to study were on weeknights, weekends or early mornings before work.
Did you have any concerns before starting your degree?
The main concern I had was my time management, which I think is common if you're working as well. I was worried about maintaining a balance between work, study, and my personal life. But as I settled into my studies and found a rhythm that worked for me, it was great.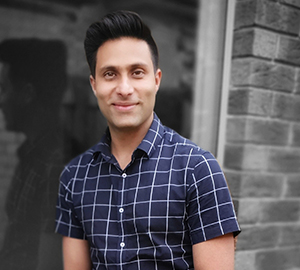 If you could give your past self a few words of advice knowing what you do now, what would you say?
If I could give my past self advice I would tell him not to procrastinate and have faith in himself. I would also say stop contemplating the future and just do it. If you have the determination and will, you can pursue your dreams.
How did you feel at your graduation? How did you celebrate?
At my graduation, I felt very proud. It was great to have my partner attend the graduation ceremony with me. Because she took on the management of household errands and general life admin, I was able to dedicate more time to my studies. Without her support, I wouldn't have been able to achieve what I have.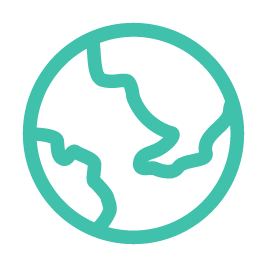 100% online
No need to come onto campus
Credit for prior work experience
Fast-track your study

Support 7 days a week
Get help when you need it
Read more student stories
Why study with UniSA Online?
#1 in Australia and #6 worldwide for quality education
(2020 THE University Impact Rankings)
85% UniSA Online student satisfaction for learning resources and student support
(Commencing UniSA Online Students, 2020 ComparED (QILT) Student Experience Survey (Undergraduate, Domestic Students). National average for learning resources: 79%)
87% satisfaction for teaching quality and student support
(Commencing UniSA Online Students, 2020 ComparED (QILT) Student Experience Survey (Undergraduate, Domestic Students). National average for teaching quality: 82% National average for student support: 77%)
UniSA is one of Australia's largest online universities
Ranked 5th, 2019 Department of Education and Training Data –Commencing Domestic Bachelor Degree Students (External)
Top 5 Young University in Australia
Ranked #4, THE Young University Rankings 2020
Ranked in the world's top 50 under 50
(Ranked #25, 2020 THE Young University Rankings Ranked #29, 2021 QS Top 50 Universities Aged Under 50)